Tennessee
Below are vintage directories of schools from 1965 presented for nostalgia and historic purposes. Please note that some schools included in these vintage listings may still be open. You may refer to the listings under Current Schools for cross-reference.
Diocese of Nashville
*Until 1970, the entire state of Tennessee fell under the Diocese of Nashville. The Diocese of Memphis was created in 1970 and the Diocese of Knoxville was created in 1988.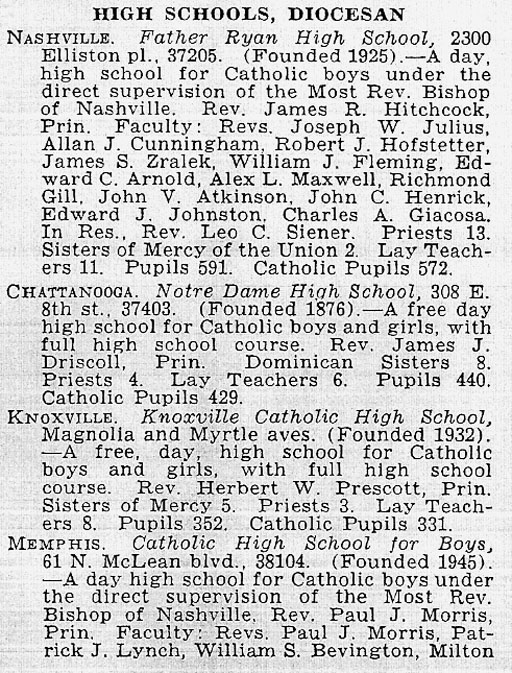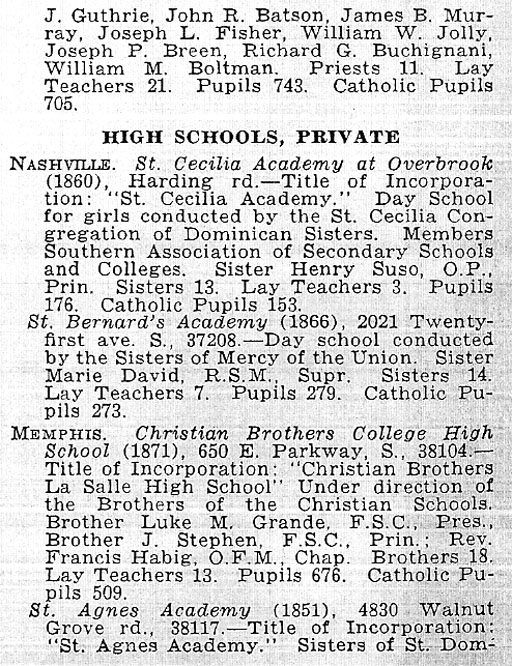 Father Ryan Catholic High School, Memphis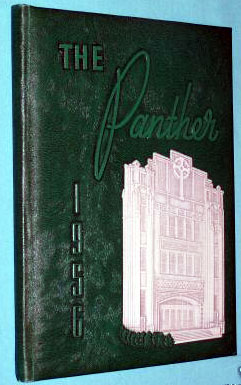 ---
Knoxville News Sentinel (TN)
October 24, 2007

Golden Grads reminisce about days at Catholic High Schools
Author: Elizabeth Pooley
Senior alumni, graduates from Knoxville Catholic High School, recently returned to their alma mater for a Golden Grad assembly honoring the school's 75th anniversary.
Jan Johnson, KCHS director of Alumni Affairs and Community Relations, said members of graduating classes dating back 50 years and more were invited to attend the firstof-its-kind event. Nearly 200 attended, and began arriving at 9 a.m. Sept. 22 for an open house, tour of the school and display of memorabilia and special luncheon.
"Some of the grads dated back to the Class of 1934 and '35. It was just an amazing event," Johnson said.
Originally on what's now Pellissippi State Technical Community College's Magnolia Avenue campus in East Knoxville, Catholic High School opened its doors under the guidance of the Sisters of Mercy in 1932.
Presiding over the closing of the campus chapel in December of 1999, Bishop Joseph E. Kurtz went on to dedicate the school's new location on Fox Lonas Road in West Knoxville in January 2003.
With a substantial growth in enrollment since the move west, KCHS is expanding with the construction of a new academic wing scheduled to open in the near future.
Golden Grads had many tales to tell about their high school years at KCHS, the good ol' green and blue.
"I pretty much grew up at KCHS," said Bob DeWine, Class of 1939. "I was kind of shy, maybe had one date all that time. I met my wife, Teresa, after I graduated. She went to St. Mary's School. We've been married 60 years. I'm still pretty active and still run into a lot of my classmates."
Mary Jane Huber, Class of 1953, said her 55th reunion would be coming up next year, and her lasting impression of the ol' gang was the number of marriages that came out of her graduating class.
Linda Stizman Johnson said the Class of 1953 knew how to have a really good time.
"We liked to dance at the CYO (Catholic Youth Organization) parties. We even had dancing classes at one time. There wasn't any football, just basketball and our biggest rival was Knoxville High followed by Central High," Johnson said.
Vincenzia Provenza Vineyard, Class of 1945, said so many of her classmates are now deceased.
"Nearly half of them are gone. A lot of them died really young. We had 22 in the class," said the widow of 23 years.
Vineyard loves watching the cooking channels on television. She resides in Holston Hills, continues to work at Sam's Club as a demonstrator and maintains her strong ties to Immaculate Conception Catholic Church in East Knoxville where she was baptized, confirmed and married.
"I fully expect to be rolled out, buried there," she said.
Knoxville Catholic High School's 75th anniversary did not end with the weekend that included a tailgate party, social in the school gym, Golden Grads luncheon, alumni Mass and assorted class reunion gatherings. The celebration continues through the annual Shamrock Open scheduled this coming June.
"Knoxville Catholic High School has graduated nearly 4,500 students over the years. Once you are a graduate of KCHS, you become part of a great tradition," said Jan Johnson, Class of 1969.
Copyright 2007, Knoxville News Sentinel Co
---
Back
Home