Wilton nuns mark 175 years for their order
Sisters of St. Francis create special crafts
November 13, 2008
Congregation rallies to repair cemetery for nuns
November 13, 2008
Who's buried at St. John the Baptist Cemetery?
November 13, 2008
November 17, 2008
The impact of Sisters of St. Francis
October 25 2008
November 9 2008
Sisters of Charity celebrate 150-year jubilee
November 2008
After 50 years, the nuns of Mount Saint Vincent are getting a new home
Religious community raises pastured poultry in Berryville
French nun, respected humanitarian dead at 99
---
Ursuline Academy on endangered site list
April 7, 2008
---
April 6, 2008
---
Low numbers catch up with order, so it's giving up monastery
April 7, 2008
---
Patient person
Hospital advocate helps resolve complaints
March 17, 2008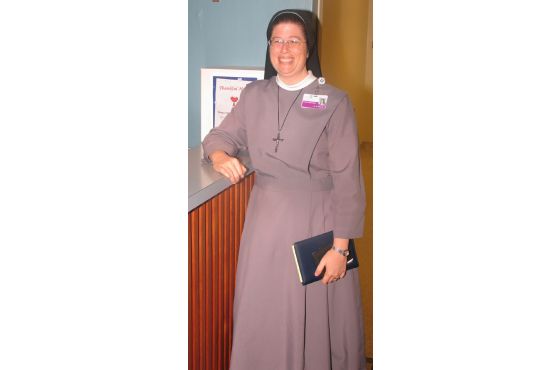 ---
Passion for saints symbolic of a lifelong devotion
March 11, 2008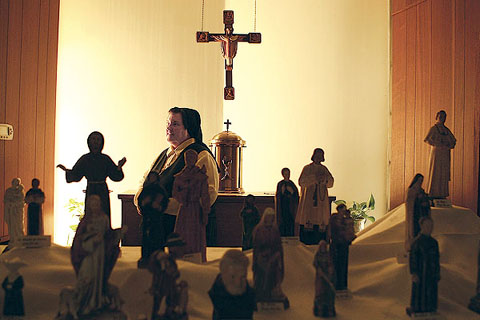 ---
Palms shape message for Palm Sunday
Buffalo News - Franciscans - March 15, 2008
---
Addressing health care needs: Sisters of Charity Foundation, partners pump more than $2.3M into county
March 5, 2008
---
Feminist theologian Anne Carr dies
March 4, 2008
---
Louisiana Nun Provides 'Hail Mary' Play for Super Bowl
Giants president prayed, holding a religious medal during the game.
CHANDLER, Ariz. | As Eli Manning drove the Giants to a championship-winning touchdown in the final minute of Super Bowl XLII, television cameras peeked at nervous team president John Mara, reaching into his shirt pocket.
Was he searching for a monogrammed handkerchief to dab his eyes? Was there a new contract for coach Tom Coughlin? Maybe Mara was looking for a parking pass that needed validation, or trying to dig out a bothersome piece of lint.
Nope. Pacing in a luxury suite at University of Phoenix Stadium, Mara was saying a silent prayer and running his fingers over a religious medal sent to him by nuns who are Manning fans in his native Lousiana.
On Monday, as the grinning, sleep-deprived Giants loaded their luggage and the Lombardi Trophy onto a team charter and flew back home for a Manhattan victory parade, Mara chuckled when asked what had been in his pocket.
"I had a little medal this nun sent me," he said. "She sent me a great letter a couple of days ago with this medal of the Blessed Virgin, and she said, 'I guarantee you this will bring you luck.' I did reach in for that. Did they actually show that on TV?"
Tracked down in New Orleans, Sister Kathleen Finnerty, the superintendent of schools for the New Orleans Archdiocese, told the story behind the Our Lady of Prompt Succor medal she had sent to Mara a few days after the NFC Championship Game.
She said she hadn't noticed Mara reaching into his pocket. "Are you kidding?" Finnerty said. "I was too busy looking for a Valium."
Turns out, Finnerty's order, the Ursuline Sisters, are fanatical football fans who watch or attend high school games on Friday nights, college games on Saturday, and NFL on Sunday. And because they are New Orleans natives, they have a soft spots for the Manning quarterbacks, who were reared there.
"Some of the sisters down here are 80 to 90 years old, and they are football addicts," Finnerty said. "So when the Giants made the Super Bowl, one of them said to me, 'We can't let Eli down. We have to get Our Lady in on this.' "
Finnerty sent the medal off in the mail, and didn't think about it much after that.
Before taking her job to rebuild the New Orleans Catholic School system, Finnerty had been principal for eight years at a New York Catholic school where Mara's children have attended. While she appreciates Mara's strong faith, Finnerty said she never promised the medal would produce a Super Bowl triumph.
"I don't think I guaranteed a victory," she said with a laugh. "I think I wrote that the Giants could use a little divine intervention."
After all, they were playing the 18-0 New England Patriots. The Giants were 12-point underdogs. Heck, it would take a miracle.
"Our Lady has provided miracles before," Finnerty said.
Actually, two miracles have been attributed to the Virgin Mother under the name of Our Lady of Prompt Succor, which is French for "Quick Help."
"Wait until I tell the other Sisters that John had the medal in his pocket the whole time," Finnerty said. "Oh, they're going to love this."
---
Left behind at Ursuline convent;
Uncovering treasure in the walls
February 20, 2008 Chatham, Ontario
Valentine cards and other tiny treasures, some dating back 100 years or more, are turning up behind baseboards of an 1867 building on Grand Avenue West.
The building, used for years as a convent by the Ursuline Sisters, is being converted into a Christian retirement village by the Caleb Group.
The century-plus building once housed classrooms for an all-girls' school and served as residential quarters for Ursuline Sisters.
Construction workers Jeff Kirchner and Mike Giroux discovered several old Valentine cards on Valentine's Day while ripping and tearing out inner walls and baseboards in the building.
"There were also a number of letters and other items that were turned over to the Ursuline Sisters,'' said Kirchner.
The two workers discovered another cache of history Tuesday while removing baseboards while a Chatham Daily News' reporter and photographer were present.
Among the latest finds were several old pencils, Catholic rosaries, a half-penny stamp, a Newfoundland stamp and more Valentines.
Kirchner said the items likely dropped from one floor to the next through narrow slots in the wooden floors next to the walls and got buried behind the baseboards.
He said students may have even hidden the cards and other items behind the baseboards on their own.
"We even found a very old, leather shoe,'' he said. "It's become quite a conversation piece at the construction site office.''
Kirchner, who hails from Chatham, said it's likely more old finds will be made in the building as demolition work continues in the coming weeks.
---
Owensboro Messenger-Inquirer (KY)
July 22, 1999
Ursuline Sisters' 125th anniversary celebrated Owensboro mayor gives sisters a key to the city
Author: Lori Burling; Messenger-Inquirer
More than 100 Ursuline Sisters of Mount St. Joseph in Owensboro gathered Wednesday at Brescia University for a Mass and luncheon held in their honor. The Ursuline sisters are celebrating their 125th anniversary and Brescia officials took this opportunity to honor the sisters who founded the university.
The sisters were presented with proclamations from Gov. Paul Patton and Daviess County Judge-Executive Reid Haire proclaiming July 21, 1999, as Ursuline Appreciation Day and Mayor Waymond Morris presented the sisters a key to the city.
"I feel as though I'm wearing two hats today," Sister Vivian Bowles said. "I'm president of Brescia, but also an Ursuline. I think we Ursulines have a lot to be proud of when looking at Brescia University. We started with nothing but the Ursuline's sacrifice and now look what we have."
Sister Vivian said the sisters play an active role in the university.
"Of course, the sisters founded the university," Sister Vivian said. "We've now put it in the hands of the board of trustees, but four of the board members are sisters. We have sisters who are staff members with the university and we have one sister who is the director of mission effectiveness. She makes sure everything with the university is in the core light of the Ursuline sisters."
During the luncheon Anne Damron, the director of development for Brescia University, announced the beginning of a new scholarship.
"We tried to think of something meaningful for the alumni and the sisters, and we're proud to present a new endowed scholarship," Damron said. "The Ursuline Sisters Academic Scholarship will be awarded every year to a student in need."
As the sisters sighed with delight, Sister Vivian had a look of surprise as well.
"I worked with the luncheon from the beginning," Sister Vivian said. "I helped with the planning, but I didn't know about the proclamations or the new scholarship that was announced until today. It has just been wonderful."
Sister C.J. Olinger, a Brescia graduate, said she never realized what Brescia University means to people.
"As I get to travel through dioceses I realize more and more of the influence Brescia University has throughout Kentucky - really throughout the nation, but my travels keep me in Kentucky. I think it's wonderful to be a part of this, and I'm grateful I'm an Ursuline."
Upon receiving the key to the city, Sister Rose Marita O'Bryan, mother superior of the sisters, was excited.
"I'm not sure what we'll do with the key actually," Sister Rose said. "But what it stands for is marvelous to me. It's something we will respect and appreciate."
Sister Ann McGrew said she had a wonderful time.
"I'm excited to be here," Sister McGrew said. "The eulogy this morning was so beautiful and meaningful. This gives us a chance to all be together."
Sister Rose said the sisters were overwhelmed with the events that took place.
"I can't explain how overwhelmed all of us are for today," Sister Rose said. "We've had a love affair with Daviess County since 1874 when the first five Ursuline Sisters came from Louisville. And Brescia has given us something of our own."
Copyright, 1999, Owensboro Messenger-Inquirer
Record Number: 1632254
---
Plain Dealer, The (Cleveland, OH)
April 2, 1995
URSULINE SISTERS HAVE A HISTORY OF HELPING
Author: MICHELE LESIE PLAIN DEALER REPORTER
During the influenza epidemic of 1918, fear spread as quickly as the highly contagious virus. Worldwide, more than 20 million people died.
Health officials everywhere ordered schools to stay closed, including those taught by the Ursuline Sisters of Cleveland. Though semi-cloistered and trained as teachers, the Ursuline nuns didn't stay indoors. They went out into the city to nurse the sick and dying.
"The sisters left the cloister to go into homes, which was most unusual for us," said Sister Joann Kessler, archivist at the Ursuline Motherhouse in Pepper Pike. "Before that, we left the convent only to go to the schools."
"Before that," in Ursuline terms, is a long time. The order is 460 years old.
The Order of St. Ursula was founded by St. Angela Merici in Italy in 1535. Unlike members of other religious communities, Ursulines - at least in the order's early years - did not live in monasteries or wear a particular habit. They gathered for prayer and teaching.
In time, the eventually enclosed (cloistered) order spread throughout Europe and the New World. Ursuline nuns were in Canada, via France, by 1639. The first Ursulines to serve in what would become the United States came to New Orleans in 1727. Missionary work would take the order to every continent.
Ursuline nuns arrived in Cleveland in 1850, when Bishop Amadeus Rappe requested that they run the fledgling Diocese of Cleveland's schools, Kessler said. Mother Mary of the Annunciation Beaumont, superior, arrived with four Ursuline sisters Aug. 8 of that year. Within three weeks, they had opened a school for 300 girls at Euclid Ave. and E. 6th St.
"When St. Angela founded our community, it was to help women," Kessler said. The founder understood, nearly half a millenium ago, that education could better a woman's life no matter what her circumstances, she said.
In 1871, the sisters opened Ursuline College for women. Several years later, they opened Villa Angela for girls and St. Joseph Seminary for boys, now Villa Angela-St. Joseph High School on Cleveland's lake shore.
Ursuline College, which graduated its first class in 1925, moved to its present 112-acre site on Lander Rd. in Pepper Pike in 1959. The order's Motherhouse is on the grounds, and it was in nearby woods that the body of Sister Joanne Marie Mascha, 58, was found Monday.
A decade ago, Ursuline College became the only college in the country to design its core curriculum around women and how they learn. The student body remains predominantly female.
"We believe that single-sex education for women empowers them to be leaders," said Sister Maureen McCarthy, general superior of the Ursuline Sisters of Cleveland. Mascha's violent death, she said, makes it more clear why the community must continue its 460-year-old quest to educate women and nurture their spirituality.
"We stand for and among the poor and oppressed as a sign of hope and healing," McCarthy said, quoting from the Cleveland Ursulines' mission statement. "Especially women and families."
Ursuline orders are autonomous, meaning there is no "umbrella" organization; each community operates independently. In Greater Cleveland, about 300 Ursuline sisters serve 40 parishes, 27 elementary schools, 27 high schools, the college and a seminary.
While their focus is on teaching, Ursulines also work in parishes, hospitals and nursing homes. But like other Roman Catholic religious communities, their numbers are dwindling. The median age of Ursuline sisters in the local community is 61.
Copyright 1995, 2002 The Plain Dealer. All Rights Reserved. Used by NewsBank with Permission.
Record Number: 08092079
---
State Journal-Register, The (Springfield, IL)
February 1, 2005
SCI trustees will take charge of Ursuline Academy / Tuition freeze, new principal announced for Catholic high school
Author: JOHN REYNOLDS and AMANDA REAVY STAFF WRITERS
Ursuline Academy and Springfield College in Illinois announced an agreement Monday that places the college's board of trustees in charge of the high school.
That authority had previously rested with the Ursuline Sisters, an order of Catholic nuns that founded both the college and the high school.
Sara Decatoire, who chairs of the Ursuline Academy Board of Trustees, said the change will mean greater opportunities for the high school students. She said Ursuline officials initiated the change because the private school has struggled.
"With this union, we are going to be able to work with Springfield College in Illinois and collaborate to offer better services to our students - to really ensure their success in college," Decatoire said.
"We are looking forward to ... really increasing our enrollment here and providing the best education possible," she added.
Ursuline Academy and SCI, a two-year liberal arts college, are next to each other in the 1400 and 1500 block of North Fifth Street. The college has about 600 students; the high school has about 200.
In 2003, SCI began a partnership with Lisle-based Benedictine University to offer bachelor's and master's degrees.
William Carroll, president of SCI, explained that Ursuline Academy's oversight had consisted of two tiers, the higher being the Ursuline Sisters.
"The academy board, the corporation, is still in existence. It's the same corporation. It's just that the leadership role of the sisters has been replaced now by the SCI board," Carroll said.
He also announced Monday that tuition at the high school will be frozen for at least the next year, another aspect of the effort to recruit more students.
In a meeting with parents Monday night in the Ursuline gymnasium, Carroll emphasized how the new partnership is focused on building the high school's future, not tearing down its history and traditions.
"The academy is still a sister institution to Springfield College. Always has been," he said.
But Carroll said the academy must work harder to differentiate itself from local competition. And to help make that difference, he introduced Bob Mandeville as interim principal, replacing Barbara Bernardi, who had been principal since May 2002.
Mandeville is a Jacksonville native who has served as an officer in the Air Force and as a spacecraft designer for NASA.
In 1997, he began working for the State Board of Education and was interim superintendent for four months. Mandeville also taught for one year at Eastern Illinois University and taught government regulation part time at the three University of Illinois campuses.
Students at Ursuline can expect no other major changes the rest of this school year, but Carroll said 2005-06 will be different. School uniforms are one possibility, and Ursuline seniors could be taking some college-level classes at SCI through a program called "4 Plus 1."
Under "4 Plus 1," Ursuline students would attend their normal high school classes through their junior years. As seniors, they would attend some college classes at SCI. After graduating from Ursuline, they could then finish their associate's degree in one year at SCI.
"With high schools right now ... rather than having (seniors) take classes they may not need, let them get their teeth into some college courses, move them toward that degree and let them finish earlier," Carroll said.
He did not have an estimate on when "4 Plus 1" might be implemented, adding that he would consult with parents before moving forward with plans to require a school uniform.
"I think a uniform will say, 'I'm an academy student, and we are not in a dressing competition.' It's about study, it's about academics, and it's about helping our students be the best they can be," Carroll said.
He and Mandeville also discussed the idea of pooling Ursuline's and SCI's resources, such as a joint library, bookkeeping system and maintenance services.
Ursuline's parents and alumni received a letter over the weekend to alert them to the changes.
"When I received the letter on Saturday, it was sort of shocking," said Emma Pulliam, president of the parent association. Her son is a junior at the academy, and her two daughters are alumni.
"I have been here for many years, my daughters graduated from here," she said. "I could see we were going downhill and something had to be done."
Pulliam said she's impressed by some of the proposals, particularly "4 Plus 1," and believes it will help make college more accessible to Ursuline students.
She also said she was surprised to hear Bernardi is being replaced.
Although she said she was initially concerned about Mandeville's academic experience, Pulliam believes his business background will help the school with its budget and enrollment problems. However, she said she's sad to see Bernardi go.
"I think (the SCI agreement) will be a good move, but it is a bittersweet change for me," Pulliam said.
Ursuline alumnus Lynda Bucci Snodsmith said she views a return to school uniforms as necessary to develop a stronger student identity.
"When I went here, they were way stricter with the uniforms. We knew where we came from, we knew who we were," she said. "That is all tradition, and we got away from that."
Most importantly, Snodsmith said, the changes should help secure Ursuline's future.
"Three generations of my family went here, and my son and daughter will be the fourth," she said. "I hope to send them here, so the continuance is very important to our family and to our community."
Ursuline Academy, founded as a girls school by the Ursuline Sisters in 1857, serves those who seek preparatory education in the Catholic tradition. It began admitting boys in 1981.
The Ursuline Sisters founded SCI in 1929 as Springfield's first institution of higher learning. Four Ursuline sisters and one Dominican sister sit on the 13-member SCI board.
"Ursuline sisters will be on the Springfield College board as long as they want to be. We value that Ursuline identity. The Benedictines and the Ursuline Sisters have a lot of common values. It's like a marriage, in a sense, made in heaven," Carroll said.
All content is (c) Copyright 2005 The State Journal-Register, a division of Copley Press, Inc. All rights reserved. No material may be reproduced electronically or in print without written permission.
Record Number: 0000637362
---
Watertown Daily Times (NY)
July 4, 1993
SOME STILL BECOMING NUNS
Author: Norah E. Machia Times Staff Writer
Here are the communities of religious women in Jefferson, St. Lawrence and Lewis counties:
Brasher Falls: Sisters of the Atonement, Ursuline Sisters
Canton: Grey Nuns of the Sacred Heart
Carthage: Sisters of St. Joseph
Clayton: Sisters of the Holy Cross
Gouverneur: Sisters of St. Joseph, Sisters of St. Joseph of Carondelet
Lisbon: Ursuline Sisters Lowville: Felician Sisters
Massena: Servants of Mary, Sisters of St. Joseph
Ogdensburg: Franciscan Sisters of the Atonement, Grey Nuns of the Sacred Heart, Sinsinawa Dominicans, Sisters of St. Joseph.
Potsdam: Grey Nuns of the Sacred Heart
Rensselaer Falls: Sisters of St. Joseph of Carondelet
Waddington: Servants of Mary
Watertown: Grey Nuns of the Sacred Heart, Religious Teachers Filippini, Sisters of Mercy, Sisters of the Precious Blood, Sisters of St. Joseph, Ursuline Sisters.
Sarah S. Cook, a Redwood resident who will turn 30 years old this summer, has spent years giving horseback-riding lessons to inner-city youngsters in New York City and Baltimore.
She also has cared for elderly in their homes, worked for the Jefferson County Social Services Department administering Home Energy Assistance Program benefits, and was employed by the North Country Transitional Living Service at its home for emotionally disturbed children.
But this fall, she will make a big career change when she begans preparations to join the Sisters of St. Joseph, a religious order of the Diocese of Ogdensburg.
"I've always been comfortable in a religious setting," said the 1982 graduate of Alexandria Central School. "I feel I can be professional and still live the quiet, serene life I want."
Most people who enter religious orders in these modern times are college-educated women with set career goals, said Sister Jennifer Votraw, major superior of the Sisters of St. Joseph.
"A young woman needs plenty of time to experience life before making a decision," she said, adding that women today seldom enter a religious order right after high school.
In recent years, there has been much publicity about the decrease in the number of men and women entering religious orders as more choose to become involved in lay ministry work.
Sister Jennifer said only three women have entered the Sisters of St. Joseph in the past five years.
"It's a concern," she said. "The future is unknown. We put it in God's hands."
There are 26 religious orders in the north country, with 243 religious women, said Sister Catherine Livers, associate vicar for religious vocations at Mater Dei College in Ogdensburg.
The sisters are involved in teaching, pastoral ministry, religious education, nursing, parish administration, social work and other fields, said Sister Catherine, a member of the Sisters of St. Joseph.
She blames the shortage of women in religious vocations on:
Increasing numbers of ways to serve the church without joining an order.
A lack of "permanent commitment in our culture today."
The break-up of family life.
Materialism.
Pragmatism.
The Sisters of St. Joseph is the the only religious order with a "mother house," or home base, in Watertown, Sister Jennifer said. That house is at 1425 Washington St.
Most of the members of the Sisters of St. Joseph are in the education field, and teach at one of the Catholic schools in Watertown.
Although they place notices in church bulletins, true "recruiting" for the Sisters of St. Joseph is done by "one-on-one contact," she said.
That's why Sarah Cook, who was raised Lutheran but converted to the Catholic faith in 1987, first began to contemplate life as a sister. In 1985, she entered Mater Dei College, where the Sisters of St. Joseph work.
"After my fear of nuns went away, I'd observe them," she said. "I started to take note of the sisters and how they lived. It just intrigued me to no end, how calm and peaceful they seemed to be," she said.
Miss Cook will move in with the sisters at Mater Dei College this fall, and do ministry work at north country parishes while studying at Wadham's Hall. It's part of her preparation for her final vows, a process that takes six to nine years.
At the same time, she will be working toward a degree in adolescent psychology.
Daily contact with younger people can be a valuable tool for recruitment, and one order of nuns experienced a decrease in women entering their order after its high school in Malone closed.
"We're an aging order," said Sister Marie Jerome, Malone, a member of the Ursulines Nuns, whose mother house is in Italy.
Independent communities of the Ursulines are located throughout the north country.
It was more than 12 years ago that a high school operated by the Ursuline sisters, St. Joseph's Ursuline Academy, was closed in Malone. At one time the sisters also ran a boarding school.
"We had more contact with the youth at that time," Sister Marie said. "Since the school closed, we haven't had any vocations from the north country."
The number of Catholic high schools in the north country has dwindled to two - Immaculate Heart Central in Watertown and Seton Catholic in Plattsburgh.
While no north country young women have entered that order in many years, there have been women, including three last year, who have chosen to be "associates," doing community work with the Ursuline sisters but not joining the order, she said.
The Sisters of the Precious Blood, seven nuns who reside in a monastery on Pratt Street in Watertown, face an even greater challenge because they are a cloistered order. Their life at the monastery focuses on prayer and contemplation, and they leave the monastery only to run errands or take care of business.
Because they have only minimum exposure to the outside world, there is a lack of understanding about their lifestyle, Sister Marilyn said.
Copyright (c) 1993 Watertown Daily Times
Record Number: 9307020056
---
Evansville Courier & Press (IN)
August 9, 2004

ECHOES OF AN EARLY VOYAGE
URSULINE SISTERS TO RE-CREATE RIVER JOURNEY OF THEIR SCHOOL'S FOUNDERS
Author: JOHN LUCAS,
Dateline: MAPLE MOUNT, Ky.
The Ursuline Sisters of Mount St. Joseph in Daviess County, Ky., will blend the past and the future later this week as they use digital and satellite technology to give the world real-time updates on a flatboat trip they're making down the Ohio River.
The five-day trip, Wednesday to Sunday from Louisville, Ky., to Owensboro, Ky., will re-create the journey made 130 years ago by the original five nuns who left Louisville to establish a school for the growing Catholic community of St. Alphonsus Parish at Maple Mount in southwestern Daviess County.
Modern technology and an Internet Web site (www.ursulineflatboatadventure.org) will enable the modern-day pioneers to share their story with the world, but especially with students and teachers who can use a suggested curriculum on the Web site to incorporate the nuns into social studies, science, math and other classes.
The Ursulines, whose order was established in 1535, are educators, and Sister Amelia Stenger, director of Mount St. Joseph Conference and Retreat Center, who helped to plan this re-enactment, sees the journey as a part of that on-going mission. They have spent the past year and a half planning the river trip.
"We were trying to find a way to get information about the sisters to the public. We want people to know about Ursulines," Stenger said. "It was a way to have some fun, too."
A 155-mile journey
Stenger, with Sisters Elaine Burke and Pam Mueller, will ride the flatboat for the entire 155-mile trip. Other members of the order will join the crew for shorter portions of the trip, boarding and disembarking as the boat stops at Brandenburg and Cloverport in Kentucky, and Tell City and Grandview in Indiana before docking at 1 p.m. Sunday at Smothers Park in downtown Owensboro.
The 10-by-30-foot flatboat will be accompanied on its trip down the river by a small towboat that Stenger said will "keep it out of the way of barges" and help it to stay on schedule.
The flatboat will be piloted by John Cooper, a faculty member of Volunteer State Community College at Gallatin, Tenn., who has built this and other replica flatboats.
Stenger said she learned of Cooper from crew members currently doing a three-year re-enactment of the Lewis and Clark expedition from Louisville to the Pacific Ocean.
Striving for historic accuracy of the original journey, the nuns have used old photographs to replicate the habits worn by nuns of the late 1800s and have scoured old cookbooks for recipes.
Using a Dutch oven, the sisters will cook their breakfasts and lunches on the flatboat. The provender for their trip will include lots of fresh vegetables and cured ham and bacon.
In a bow to modern-day navigational problems on the river, the flatboat will begin its downstream journey from New Albany, Ind., rather than Louisville -- a change necessitated by McAlpine Lock's closure for repairs.
In addition to keeping journals and collecting and testing water samples during the trip, the Ursulines have been using the re-enactment as a fund-raiser for their missions, which include educational efforts in eight states, particularly among American Indian tribes in New Mexico and in South America.
The order also operates Hope House at Memphis, Tenn., for children with AIDS-HIV and a Washington, D.C.-based ministry for victims of torture.
Stenger said the order hopes the commemorative journey will raise more than $100,000 for the missions.
The re-enactors have little information about the original trip on which to base theirs. Stenger speculates the mode of travel was commonplace at the time, and no one thought it unusual enough to keep a log.
Few references found
The only reference they have found to the trip has been in a letter written by one of the nuns, who came to Daviess County, then went back to Louisville. Stenger said that in it the nun noted "the trip on the river was delightful, but the wagon trip (from Owensboro to Maple Mount) was awful."
That ride of about 14 miles in a horse- or mule-drawn farm wagon took most of a day to complete. When they arrived Aug. 15, 1874, neighbors Aquilla and Louise Blandford fed them their first meal in their new home. It consisted of watermelon and buttermilk.
Stenger said the re-enactors will fudge a bit on history for their trek from the river to Maple Mount.
When they arrive at Smothers Park, they will be welcomed by Owensboro Mayor Waymond Morris and Daviess County Judge-Executive Reid Haire. They will then climb on a mule-drawn wagon and go about 10 blocks to St. Stephen's Cathedral, where they'll change to a tractor-drawn wagon for most of the trip to Maple Mount. Just before arriving there at 4 p.m., they'll switch back to mule power.
The tractor, Stenger said, will be driven by Bruce Blandford, manager of the Ursulines' 750 farm at Maple Mount and a fourth generation descendant of the Blandfords who fed the original sisters their first meal at their new home.
Sunday's welcoming ceremony will include a blessing of five maple trees planted in honor of the five original nuns and an oak for Father Paul Joseph Volk, the St. Alphonsus pastor who sought the assistance of the Ursulines to start a school for Catholic youths in Daviess County.
The Sisters of Loretto had attempted earlier to establish a school in the parish, Stenger said, but they abandoned the effort after the school burned.
The school established by the Ursulines became Mount St. Joseph Academy, a boarding high school for girls. A separate school for boys was also established on the grounds.
Women training to become nuns needed education beyond high school, Stenger said, and a junior college was established at Maple Mount. As enrollment increased and others wanted to attend, it was moved to Owensboro and formed the basis of what is today's Brescia University there. Mount St. Joseph Academy closed in 1983 and the conference center was opened.
A pioneering spirit
Stenger linked the flatboat journey to the Ursulines' pioneering spirit.
"Those first five sisters that came here were pioneers," she said. "Sisters who came here (to school) and went out to teach in remote areas were pioneers.'
Ursulines at Maple Mount are still pioneering, she said, by using their farm to instruct youngsters in environmentally friendly agricultural methods.
The idea for the modern-day flatboat journey came out of discussions among the sisters of ways to advance their ministry, she said.
"I guess the Holy Spirit just came up with this inspiration," Stenger said. "It just developed, and it has gotten much bigger than we ever anticipated."
Copyright, 2004, Evansville Courier & Press
Record Number: 0409030003
---
Star Democrat, The (Easton, MD)
June 30, 2006
Benedictine Sisters celebrate 150th anniversary
RIDGELY Beginning Sunday, the Benedictine Sisters of Ridgely are planning year-long celebrations to commemorate the 150th anniversary of their founding from St. Mary's, Pa. to Newark, N.J. on July 2, 1857. The sisters later transferred their motherhouse from Newark, N.J., to Ridgely on May 23, 1887.
On Sunday, July 2, Foundresses' Day, Bishop Michael Saltarelli will preside at opening Mass at St. Gertrude's Monastery in Ridgely. The opening celebration will include the families of the sisters, prioresses and sub-prioresses from other Benedictine communities and county commissioners.
The Benedictine Sisters will host an open house Sept. 24 for all the religious sisters and brothers of the diocese of Wilmington, Del.; Benedictine Sisters from Maryland, New Jersey, Pennsylvania and Virginia; Benedictine Monks from Newark and Delbarton, N.J., and Washington, D.C.; and board and committee members of the sisters' various ministries.
On Nov. 5, Eucharist will be celebrated at St. Elizabeth's in Wilmington, Del., for all friends of the sisters and all former students and teachers affiliated with any of the schools staffed by the Benedictine Sisters.
Throughout 2006 and 2007, the sisters will celebrate with their oblates, former sisters, employees, volunteers and abbots from nearby abbeys. Abbot Primate Notker Wolf, OSB of Rome, Italy, will be in the United States during the anniversary year and will preside at one of the community's celebrations.
The closing of the anniversary will be July 1, 2007, at St. Gertrude's Monastery in Ridgely.
Copyright (c) 2006, Star Democrat, The (Easton, MD) All Rights Reserved Record Number: 26806
---
Tulsa World (Oklahoma)
October 19, 1994
Benedictine Sisters Play Active Role in Community
Author: Kimberly Sykes
Devotion to prayer life and the monastic way of life are
just a part of the Benedictine Sisters convent near the
campus of Monte Cassino School.
A large part of Benedictine Sisters work is performed outside of the monastery and is focused on helping the community.
The Catholic order of Benedictine Sisters first came to
Oklahoma before statehood. Three Benedictine Sisters started Saint Mary's School at Gutherie in 1889 - the first parochial school in Oklahoma Territory.
In 1926, at the request of the bishop, the Benedictines of Guthrie built and opened Monte Cassino School in Tulsa with classes for kindergarten through 12th grade.
A dormitory was completed in 1928 and Monte Cassino became a boarding school.
The Benedictine Sisters transferred from Guthrie to Tulsa in 1955, purchasing the Parriott House on 31st Street and Lewis Avenue.
In 1961, the Monte Cassino dormitory was closed and the Benedictine Sisters established a new mother-house, where it is still located.
There are currently 37 Benedictine Sisters in the monastery community.
Many of the sisters put in countless hours of volunteer work throughout the community. Sister Anita Marie Gilpin
and Sister Fabian Camacho both volunteer at Catholic Charities. Gilpin volunteers in the clothing department and Camacho
volunteers in the Immigration Office, where she works as
an interpreter and also helps translate and teach English and reading to Spanish speaking immigrants.
`I don't know how many people I have worked with,` Camacho said. `I have helped children in Monte Cassino learn to
read and I have also helped others through Catholic Charities. I really don't know how many I have taught.`
Camacho, 86, said the number of hours she has spent volunteering seem to pass quickly. She has been awarded a certificate
for volunteering more than 1,000 hours by the Tulsa Literacy Coalition.
She also takes one of the sisters to activities at the Center for Physically Limited, volunteering while she is there.
`I just try to help out,` she said. `I just do little things like get people coffee and visit with them.`
Several of the sisters minister to people in nursing homes and to the aged at Saint Monica's Parish and at Saint Augustine's Parish.
Postulant Julie Long, a registered nurse, has been volunteering at Saint Joseph Residence, a home for HIV and AIDS patients that is operated by Catholic Charities.
`I find it very rewarding,` Long said. `Anyone, no matter what their religious background, is accepted. Most have
a financial need in addition to the medical need.`
In addition to helping patients with medical needs, Long also does cooking, cleaning and visits the patients.
Long is entering her second year of training at the monastary. Her training will now focus on the community within the
monastary, she said.
Three of the sisters are active in the Diocesan Involvement, one of which is on the Seminary Board and the Diocesan Vocation Committee and two who serve on the Diocesan Pastoral Council.
Two Sisters serve the Sisters' Federation serving on a Core Committee for the planning of workshops and activities for all sisters within the diocese.
Sister Marilyn Norwood developed and coordinates Rainbows Program, a support group for preschool through eighth graders at Monte Cassino School.
Wherever they are needed, the sisters are always ready to help out when they can and include those in need in their prayers.
`As Benedictine Monastic women, our life is centered on prayer,` said Sister Jacinta Dorado. `We follow the Rule
of St. Benedict. It is a simple rule to be lived by people who choose to be aware of God in the ordinariness of everyday life.`
Dorado said household members pray at regular times each day to help strengthen their spiritual connection.
`We believe that prayer is what is needed today in order to bring back the values that our society needs,` she said. `Benedictine spirituality is about listening. Listening
to God in Scripture, in the Rule of Benedict, in each other and in the world around us. We listen to the needs of the church and society around us. We become involved in many and varied ministries.`
Copyright 1994 Tulsa World. World Publishing Co.
Record Number: TUL478176
---
Knight-Ridder/Tribune Business News
September 27, 2007
Benedictine Sisters portayed relishing joy in life: Calendar Signing
Author: Kim Brown, Tulsa World, Okla.
The Benedictine Sisters are calendar girls.
No, no, not that kind of calendar girls.
But in 12 stunning photographs, these sisters admirably show that a spiritual life is frequently one of joy.
You see nuns laughing during a snowy sled ride and showing skilled technique during a carefree game of disc golf in the park.
The 2008-09 wall calendar, called "Divine Days," will benefit their St. Joseph Monastery, but it also offers a fresh perspective into their lives.
"The project is to raise people's awareness and show our lives as monastic women and break down some stereotypes about sisters," said Sister Christine Ereiser, the prioress at the monastery at 2200 S. Lewis Ave. "We do ordinary things, and we do things for fun."
The calendar's photography, donated by the Tulsa photographer Ralph Cole, portrays the sisters at all sorts of joyful times.
They are swinging at Monte Cassino's playground or walking through the rain in bright orange and green galoshes. One sister is waxing her car, and another has a yellow flower painted on her cheek by a clown.
"They are just everyday things that can be a part of our life," Ereiser said. "We are ordinary women, who had a call to an extraordinary way of life."
Another goal for the calendar is to expand the monastery's profile, she said. Primarily known for its administration of Monte Cassino School, which it has operated for more than 80 years, the order is undergoing a master plan to refurbish its monastery and grounds.
The Benedictine Sisters work in pastoral ministry as well as in ways to help the poor and underprivileged.
Still, the calendar's final image is of a sister in the chapel at prayer.
"The December photo is really the heart of who we are," Ereiser said. "It's a great reminder of why we're here and what we really do."
The sisters will be on hand from 2-4 p.m. Saturday at Borders Books, 2740 E. 21st St., to sign calendars.
Each calendar is $15 and can be purchased at the following stores:
Borders at 21st Street
Steve's Sundry, Books & Magazines, 2612 S. Harvard Ave.
Catholic Bookstore, 3141 S. Yale Ave.
Ribbons, 3525 S. Peoria Ave.
Tulsa Treasures, 411 E. 11th St.
Margo's, Utica Square
The calendar also is available online for an additional $5 shipping fee at www.tulsaworld.com/stjosephmonastery, and can be purchased at Monte Cassino's Octoberfest on Oct. 14.
The sisters will have another calendar signing from 1-3 p.m. Dec. 1 at Steve's Sundry.
---
Sun, The: Lisle (IL)
April 11, 2003
Benedictine Sisters ready to move forward
In recent months, the Benedictine Sisters have received a lot of press regarding their new retirement center, Villa St. Benedict, and its impact on the Lisle Park District. There is a side to this saga that doesn't seem to get much attention.
The Benedictine Sisters have been property owners in Lisle for 98 years. We originally owned, farmed and lived on over 400 acres. Over the years, all but 47 acres of our land was either donated to or acquired by various village entities.
Since 1998, we have been planning on expanding our ministry to seniors. We are doing this to both expand our chosen ministry of hospitality and to protect our retirement years. When we originally presented our proposal to the village, we were well aware of the ordinance requiring us to dedicate a portion of our land to a park area for our residents or pay an impact fee based on the additional number of citizens living in our retirement community.
In the early stages of planning, we received an agreement in principal from the village staff to allow the Sisters to provide specific acreage in a private park conservancy. Our development plans adhered to this direction. As time went on, there was a change of plans by the village as a result of trustee and mayoral elections and staff changes, which then required us to deal directly with the Park District and other taxing entities of the village.
We naively presented our plan for a private park conservancy to the park commissioners. Because the Sisters were not opening their property for public use, this plan was rejected. Villa St. Benedict is designed for seniors and will be located on our property. We don't want to be considered aloof citizens; rather, we want to protect the safety and privacy of our residents and the remaining land we have. Our property will have an ornamental wrought iron fence. There will be no gates, but it will continue to be private.
Throughout the transactions with the park district, we offered to transform a section of our property into a bird sanctuary with viewing access from the public sidewalk. Comments have been made that we would restrict the public from entering the sanctuary area. Besides the obvious liability issues, it wouldn't be much of a sanctuary if people tried to use the area along with the wildlife.
Our decision not to develop this area in partnership with the park district is mostly economical. The requirement to develop public parking for this area impacts the economics. The viewing area/platform, signage, maintenance, parking spaces and additional engineering time and expense all fit into our decision to pay a fee in lieu of land as allowed in the ordinance.
Over the years, we have carefully maintained our property and consider it to be one of the most beautiful open spaces in the area. We fully plan on maintaining our "green space." The Sisters have been and always will practice and live out good stewardship. It's one of the core Benedictine values.
We ask for the ability to move forward with our development in a spirit of harmony and good will. The presence of the Benedictine Sisters and the residents of Villa St. Benedict will be a true asset to the Village of Lisle.
Copyright, 2003, The Naperville Sun. All rights reserved.
Record Number: PFS1267981
---
Erie Times-News (PA)
August 25, 2005
It Started with Mother Benedicta Riepp
Author: Karen Rene Merkle
The Benedictine sisters are now such a vital element in the fabric of local life, it's hard to believe there was a time when they weren't here.
Of course, none of us really can remember that time, since it was more than 150 years ago that Mother Benedicta Riepp led a small group of nuns from their home of St. Walburg Abbey in Eichstatt, Bavaria, Germany, to help new German immigrants adjust to life in St. Marys.
Five years later, in 1856, six of those sisters traveled by buckboard to Erie to continue their mission. They settled on East Ninth Street, where they served, administered to, and educated the people of northwestern Pennsylvania. While their headquarters may have moved over the years -- today 118 Benedictines are based at the Mount Saint Benedict Monastery on East Lake Road --their calling remains the same.
One way the sisters are choosing to celebrate their 150th jubilee as valued members of the Erie community is with a special exhibit documenting their past and present. "History of the Benedictine Sisters of Erie"continues through October at the Erie County History Center, 419 State St.
The room containing the exhibit may be small, but the sisters have admirably and effectively crammed 150 years worth of memories and memorabilia into it. The walls are covered with photographs and text, and display cases hold a few precious artifacts to further illustrate the Benedictines' story.
Hymnals and prayer books, in Latinand English, reflect their devotion. Some objects from the daily lives of the early Benedictines -- like an old hand-cranked apple peeler or the unadorned but utilitarian white table service -- are apt symbols of the order's unadorned but utilitarian way of life.
One of the most informative sections is the timeline that tells the sisters' history from 1856 to today. The Benedictines are a dichotomy in that they are a visible organization, at the forefront of community service, but they don't court attention for the sake of itself. This history vividly illustrates just how active they've been, if not necessarily behind the scenes, then in roles that are purposeful, supportive, and completely people-oriented.
Their academic achievements are legion in Erie: The 1869 founding of the first St. Benedict Academy, a boarding grammar school for girls; the accreditation of St. Ben's as a four-year girls' high school in 1923; and the construction of the new St. Benedict Academy on East 10th Street in 1955, which remained an Erie parochial institution until its closing in 1988.
Over the years, Benedictines have also taught in the Erie area at St. Boniface, St. Gregory, and Mount Calvary Catholic schools, at St. Stephen's and Venango Christian High School in Oil City, and at several schools in Sharon.
Yearbooks from St. Ben's, a school slate with the German alphabet still visible, and several stitched pieces -- the results of sewing lessons taken at St. Ben's by 19th-century pupil Frieka Kern -- represent the educational aspect of the Benedictines' mission.
The sisters' story certainly doesn'tbegin and end in the classroom. The Benedictines established Camp Glinodo in 1930. Originally a summer camp for girls, it later became a popular retreat and conference center. They began a Head Start program in 1965, the Emmaus Soup Kitchen in 1974, and the Neighborhood Art House in 1994.
Photographs from many of these endeavors are part of the exhibit. Colored images show the glory of the stained glass windows at the Mount Saint Benedict Monastery on East Lake Road, the order's home since 1970.
One piece contains photographs of all the prioresses of the Erie Benedictines, from Mother Benedicta Riepp herself to Sister Christine Vladimiroff, who currently holds the position. In the dozens of other photos that fill the walls, the sisters are seen at prayer, at service, and in song.
As one of the most socially conscious of orders, the Benedictines are known for their compassion and dedication to peace, justice, and equality. A display of books about and by the Benedictines, including internationally known author and lecturer Sister Joan Chittister, serves as a reminder of this important characteristic of the Benedictine commitment.
The Benedictine charism calls on the members of the order "to seek God in cenobitic life and to respond through prayer and ministry"-- not just to the members of their order, but to the community at large.
As they reach out to the community during their jubilee with special liturgies, celebrations, and this exhibit, it seems appropriate for us to respond with congratulations and thanks. One way to do so: Visit this exhibit, reflect on the sisters' loyalty and steadfastness, and maybe say a little prayer of appreciation.
Copyright 2005 Erie Times-News
Record Number: 0c6236df
---
St. Joseph News-Press (MO)
April 19, 2003
Sisters to close building from 1920s
Author: Atchison Daily Globe
ATCHISON, Kan. -- The Benedictine Sisters at Mount St. Scholastica in Atchison plan to consolidate some of their facilities as early as this summer. To do this, they will close the doors to one of their oldest buildings.
With the combining of Mount St. Scholastica Academy and Maur Hill Prep School, the Benedictine sisters will relocate services and civic programs from the Administration Building to the Feeney Memorial Building, which currently houses the academy's classrooms, said Sister Anne Shepard, director of communications for Mount St. Scholastica.
The five-and-a-half story Administration Building, constructed in the 1920s, will be vacated and closed by the end of 2003. It currently houses The Mount Community Center programs Happy Hearts Adult Learning Center and NEK-CAP Head Start. Those programs, along with the sisters' Sophia Center and combined bookstore and gift shop, will be relocated to Feeney Memorial, Sister Shepard said. However, she said there will be no room for the Kansas State University Extension Office and the Family Preservation Office in Feeney Memorial.
Along with providing adequate space for the two civic programs that will remain on campus, Sister Shepard said, Feeney Memorial is air-conditioned.
"It's a more focused use of the space," Sister Shepard said. "It's a more efficient, comfortable site."
For the past 12 years, since Benedictine College moved to the north campus and vacated the Administration Building, Sister Shepard said the Benedictine sisters have tried to use the building.
"Since 1989, we have been renting space for (not-for-profits), and that has been an ongoing challenge," she said. "As much as we've tried, the building has still been under-utilized."
The sisters have been brainstorming about using their property as efficiently as possible, she said. However, the combining of Mount Academy and Maur Hill prompted the sisters to make a decision.
"We were already looking at focusing space allocation," she said. "Our community has been in the process of doing some general planning since 2000. Given our numbers, given the economic situation -- how do we find the best use for the space we have?"
Mount St. Scholastica Prioress Mary Collins said the closing of the building doesn't mean the end of the sisters' 140-year tradition.
"Our intention is to continue doing the works being done," she said. "We're trying to use the resources we have as best we can. We're still here, and we intend to be here."
The relocations also will give the two civic programs more space than in the Administration Building, Prioress Collins said.
Feeney Memorial, a four-story building with 9,000 square feet, was constructed in the 1960s. The garden-floor space will house NEK-CAP Head Start, and the Happy Hearts Adult Learning Center will occupy the lower floor. Sophia Center and the bookstore and gift shop will be located on the upper levels. The building also contains a small auditorium that seats 100 people.
Copyright, 2003, St. Joseph News-Press (MO), All Rights Reserved. Record Number: 39986
---
Albuquerque Journal (NM)
October 8, 1999

FELICIAN SISTERS CELEBRATE, CARRY ON WORK OF FOUNDER
Author: Paul Logan Journal Staff Writer
The founder of the Felician Sisters, who is one step away from sainthood, will be honored at public ceremonies in Rio Rancho this weekend and next month.
The Southwest provincial house will observe the 100th anniversary of Blessed Mary Angela Truszkowska's death on Sunday commemorate the 125th year of their ministry in the United States, Canada and Mexico.
Each evening, a Mass will be celebrated at 6 in the chapel.
Sister Rosemarie Goins, the provincial minister, and two other nuns from Rio Rancho also are taking part in a worldwide centenary pilgrimage in Poland, where Truszkowska worked in the 1800s.
"She was a woman of deep faith," Goins said recently of the founder. "For 30 years of her religious life she was deaf and suffered a great deal."
Pope John Paul II in 1992 declared Truszkowska blessed the level just before sainthood after she was credited with a miracle.
A saint is someone who died as a martyr or a person who practiced Christian virtue to a heroic degree, is in heaven and is worthy of honor and imitation by the faithful, according to the pope's declaration.
Preceding the declaration is the process of beatification and another detailed investigation concerning the person's reputation for holiness, writings and except in the case of martyrs a miracle ascribed to her or his intercession after death, as defined in the Catholic Almanac.
Goins said a miracle attributed to Truszkowska took place about 10 years ago in Buffalo, N.Y. The recipient was a woman who had been diagnosed with an incurable, irreversible disease.
Goins told the story of a woman who was in so much pain that she would scream in agony if her bed was touched.
One morning while the daughter was working in the kitchen, a nun knocked at the door.
"I've come to visit your mother," the sister told the young woman.
The daughter later said she didn't remember opening the door because she was in some kind of a trance. At the time, the daughter said, she was depressed about her mother's condition.
After the nun went upstairs to see the woman, her daughter remembered experiencing a great peace coming over her, Goins said.
A short time later, the mother -- who had been bedridden -- walked down the stairs on her own.
Goins said the mother told her daughter, "A sister came to visit me. She told me to get up."
While they were in the kitchen, a mail carrier dropped off a newsletter from the Felician sisters' mother house in Buffalo. In the letter, there was a picture of Truszkowska, who had died in 1899.
Goins said the stunned mother exclaimed, "My God, that woman was in our house."
The cured woman called the motherhouse to tell of her blessing. Later, doctors verified that she had been cured. Goins said the Catholic Church deemed the phenomenon a "miraculous intervention."
Besides the verification of another miracle attributed to Truszkowska, Goins said the Holy Father also can canonize her a saint if he determines there is universal devotion to her within the church.
One of the criteria for considering such miracles is that the person who is cured cannot later die from the same disease. The woman from Buffalo is still alive, Goins said.
"There seems to be a lot of favors people receive (from Truszkowska)," said Goins, who went to Poland with Sister Mary Ellen Sturm and Sister Mary Estelle Waclawczyk. "People are always asking us to pray to Blessed Angelica."
If any blessings or potential miracles are reported in the provence, Sturm collects the data and sends the information to Rome.
Truszkowska founded the Felician Sisters in 1855. The nuns, who now number about 2,300 worldwide, are mainly active in education, evangelization, pastoral work and health care.
Goins said the order's philosophy is wrapped up in this expression: "Turn to the Lord your God. Be Eucharist and sister and servant to all."
She said the founder was concerned about children who were orphaned or abandoned. She said the holy nun also cared for the elderly and wounded soldiers, "no matter who they were (fighting for.)"
During a war in the mid-1800s when Russia, Austria and Germany were fighting for European supremacy, Goins said Poland was partitioned and the Felician sisters were forced "underground."
Goins said Truszkowska kept up the nuns' spirits with encouraging letters. She held the community together secretly until they were free to work among the people without harassment.
She called Truszkowska's many letters "a wealth of written work" and "a blessing in itself.
Copyright (c) 1999 Albuquerque Journal
---
Buffalo News, The (NY)
November 22, 2004
MASS AT VILLA MARIA BEGINS CELEBRATIONS OF FELICIAN SISTERS' 150TH ANNIVERSARY
Author: Sharon Linstedt -
The Felician Sisters of the Immaculate Heart of Mary Province kicked off a yearlong celebration Sunday of their worldwide order's 150th anniversary with a special Mass at Villa Maria College in Cheektowaga.
The local province, which has 232 upstate members, also honored more than a dozen sisters with more than 50 years of service. Sister Mary Angelette Helak said the sesquicentennial event for the Congregation of the Sisters of St. Felix of Cantalice marks the founding of the order by Blessed Mary Angela Truszkowska in Warsaw, Poland, in 1855.
"This will be a very special year for us," Sister Helak said. "Over the next year we'll be doing a number of things, culminating in a Mass at St. Joseph's Cathedral next November when we reach the 150th anniversary."
Sister Mary Raymond Kasprzak, the congregation's minister general, who traveled from Rome to attend the event, said the celebration provides an opportunity to show gratitude for a "rich heritage in solidarity as a congregation which has lived through three centuries," while also preparing for future "unknown calls and challenges."
Over the next year, leading up to the 150th anniversary, the sisters plan a variety of outreach efforts, ranging from aid to the elderly and disabled, to programs to fight illiteracy and hunger.
In addition to the Felician Sister's Buffalo Province, the congregation includes more than 2,000 nuns who serve in 11 countries on four continents, doing missionary work in such locations as Estonia, Ukraine, Kenya, Mexico, Canada's Northwest Territories and the Amazon River region of South America.
The congregation's Buffalo Province is one of 12 around the world. The others have headquarters in Chicago; Livonia, Mich.; Lodi, N.J.; Corapolis, Pa.; Enfield, Conn.; Rio Rancho, N.M.; and Mississauga, Ont.; plus three in Poland and one in Brazil.
As part of Sunday's festivities, 19 local Felician Sisters were honored for their religious service, including Sister Mary Eymard Pigula, who is marking her 80th year in the order. Those celebrating their 75th year of service are sisters Joan Marie Wieczorek, Mary Grace Ann Krzemien, Mary Salome Olewski, Marietta Pawlowski and Mary Liliette Jurczak.
Those marking 70 years are Sisters Mary Clarentine Kasperski, Mary Julia Witkowski, Mary Desiderata Mis, Mary Othilia Dembowski, Mary Sapientia Pisiak, Mary Justine Gardon and Mary Virginelle Burakowski.
Sisters Mary Pontianne Kubera and Mary Francella Turajski were honored for 60 years of religious life. Sisters Stephanie Bicio, Mary Marcelette Bogoniewski, Mary Francelette Smigielski and Mary Lorita Dondajewski celebrated their 50th anniversaries.
Sister Raymondine Raczkowski was honored for earning a certificate in pastoral ministry at Christ the King Seminary in the Town of Aurora
Copyright (c) 2004 The Buffalo News
---
Philadelphia Inquirer, The (PA)
November 18, 1990

IMMACULATA: A VISION FOR 70 YEARS WHEN IMMACULATE HEART OF MARY SISTERS SET THEIR SIGHTS ON EDUCATING WOMEN, THEY NEVER LOOKED BACK.
Author: Wanda Motley
Nearly 100 years ago, a Catholic priest traveling west from Philadelphia on the old Pennsylvania Railroad spotted a grassy hill from the window of the train and had an idea: an academy dedicated to educating women.
The priest quickly passed his notion on to a woman he knew who also had such a vision, and who he believed could mold such a place. He advised her to build on the power of prayer.
Mother M. Camilla Maloney, mother general of the Sisters, Servants of the Immaculate Heart of Mary in West Chester, went straight away - by horse and buggy with her first assistant - to the spot of which the priest had spoken. She petitioned the farmer whose fields were spread over the hill to sell his land to the order.
The farmer said no. Mother Camilla, unsatisfied with that, responded that she would pray. Within a short time, the 40-odd acres of rolling farmland belonged to the sisters.
So goes the story, according to history and the memory of 90-year-old Sister Bernadette Maria Flannery, of how Immaculata College in Chester County came to be.
This month the small, private liberal arts college marked its 70th year of educating women, a considerable feat in times when increasing costs and dwindling student enrollments have forced several women's colleges either to become coeducational or close.
The college community - students, parents, faculty, administrators, staff and alumnae - is celebrating this school year with an eclectic roster of educational events and an ambitious plan to break ground for a new multimillion-dollar library by next spring.
"We're trying to remember the vision and spunk of those early women who built women's colleges," Sister Marian William Hoben, president of Immaculata for the last eight years, said of the anniversary celebration. "It gives an opportunity to open our doors once more."
Immaculata, which received its state charter Nov. 12, 1920, as Villa Maria
College, sits among rolling cornfields on the highest point of the South Valley Hills overlooking Great Valley. It grew out of the all-girls' Villa Maria Academy, which the sisters of the Immaculate Heart of Mary founded in West Chester before the turn of the century.
The college serves about 2,200 resident students plus day, evening and continuing-education students. It offers baccalaureate and associate degrees in more than 20 disciplines, according to college officials. It also offers graduate degrees in four areas, the newest being a master's degree in music therapy that was approved by the state this year.
"Our mission is to educate men and women," said Sister Mary William, referring to the small number of men who have taken courses at the college through the continuing education and graduate programs since the mid-1960s. ''To educate them for this life and the life to come."
*
Immaculata was a natural extension of the work that the Immaculate Heart of Mary sisters, whose special attribute is hospitality, had been doing for several years in the area of educating women. The sisters, whose congregation was founded in Monroe, Mich., in the mid-1800s, brought their academy to West Chester in 1872 after outgrowing their quarters in the Reading area, according to a history of the college.
The academy grew quickly in West Chester as well, leading Mother Camilla to look for land on which to build a larger academy. In 1906, she purchased the first of several farm tracts that now make up the 373-acre college campus.
Builders broke ground in November 1908 for the academy's new quarters, a three-story stone building within a central domed rotunda supposedly modeled after the one in the state capitol in Harrisburg. The rotunda was exactly on top of the hill.
Six years later, Villa Maria Academy moved to the Great Valley area. The new Italian Renaissancelike building housed classrooms, dining hall, gymnasium, dormitories, library, study hall, chapel and parlor for the students - first to 12th grade. The September 1914 opening came a month before the Pennsylvania Railroad named a station stop near the academy Villa Maria.
During those years, the sisters bought more than 300 acres of land for the academy, all with money they had raised. They also prayed a lot, since construction was not going as smoothly as expected.
According to the history stories, the builders tried unsuccessfully for a month to find an underground source to supply water to the structure. Just before the academy was to open, the sisters commenced a Novena - nine days of prayer. On the eighth day, the builders struck gold - sites for two artesian wells.
In 1917, U.S. postal officials granted the academy a post office on the condition that its two-word name be changed to one. The sisters chose Immaculata. That same year, a handful of Augustinian priests from Villanova University conducted a college summer school at the academy.
Their program, which was repeated four more summers, provided a framework for the sisters when they organized their own college.
In September 1921, when Villa Maria College first opened as a women's institution, Sister Bernadette Maria began classes. She had entered the convent earlier.
"I still came (to school) with a white veil on," said Sister Bernadette, who had entered the Immaculate Heart of Mary convent in West Chester in 1919. She didn't take her vows until after she had entered the college. "Everybody was so friendly."
"I studied Greek in here. I studied Spanish across the hall. I studied math down the hall," she said recently, sitting at a cluttered desk in the second-floor alumnae office in Villa Maria Hall. She works mornings as coordinator of alumnae affairs, handling mostly correspondence.
In 1928, the academy, growing larger every year, moved again. This time it
went to Greentree, Pa., leaving the grand structure on the hill for the
college, which now has more than 10 buildings, a greenhouse, and hockey and softball fields. The name was officially changed to Immaculata on Jan. 4, 1929.
*
Over its 70 years, Immaculata has held to its position that a liberal-arts education is the best way to prepare women to compete not only in the workforce but also in academia. While administrators have extended the reach of the college to men, there is little doubt that Immaculata's primary goal is the education of young women, as its founders intended.
"What we are trying to do is develop young women who will be self- confident leaders," said Sister Claudine M. Hagerty, director of admissions and chairwoman of the 70th anniversary celebration committee. She said she believed a women's college is uniquely equipped to build women's confidence because women are taking all the leads.
"They don't have to fight for position," said Sister Claudine - especially against men in a coeducational environment, where often men are favored, she said. "They're the only people giving opinions. They're the one who is going to be president of the organizations and on the faculty committees."
That is how several undergraduates view Immaculata's environment as well.
"We have the opportunity . . . to run the functions," said sophomore Diane Cooney, a native of Chester Springs, Pa., who attended Villa Maria Academy in Greentree for grade school and high school. "I feel I've had a lot of opportunity to expand."
In addition, said junior Maureen Gearing, Immaculata is rich in traditions: investiture, in which freshmen receive the black academic cap and gown denoting their start down the path of higher education; Carol Night every Christmas holiday; the ring ceremony, in which juniors receive Immaculata's amethyst class ring; the father-daughter dance, and the Guardian Angel dinner, at which a junior is paired with a freshman to help her make the transition to
college life.
"I like the traditions about Immaculata," said Gearing, whose mother is a graduate. "It's like a circle of friends, of comradeship."
Sophomores Dawn and Darnell Simpson, identical twins from West Philadelphia, said they had wanted to attend Immaculata because of the caring atmosphere.
"You're recognized here," said Darnell, sitting in the main dining room in Nazareth Hall. Both she and her sister said they had looked specifically for a small college to attend.
"It taught me to be more outspoken," Dawn chimed in, adding to their list of positive points about Immaculata.
"That's just what I was going to say," added Darnell on the heels of her sister's comment, picking up for the umpteenth time where her sister had just left off.
"Yeah, we think alike," Dawn said.
Copyright (c) 1990 The Philadelphia Inquirer
Next
Back
Home